Zoe Kaplowitz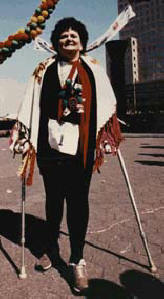 Regarded as the slowest Marathoner in the world. Revered for her courage and determination. Zoe returns to Staten Island to start her ninth New York City Marathon.
At the MS Society's national conference in the Fall of 2000, Zoe Koplowitz of New York City was named "MS Athlete of the Year" - but she was not present to accept her award. She was preparing to run her 8th consecutive New York City Marathon.

Zoe Koplowitz has MS. She has been living with balance impairment, fatigue, and spasticity for the past 22 years. She uses two Lofstrand crutches. She is famous as the world's slowest woman runner; it takes her more than 24 grueling hours to complete the 26.2-mile race. Why she does it is as much of a story as how she manages.

Fourteen years elapsed between her diagnosis and her first attempt at the main event in long-distance running. MS had not defeated her in those years, She continued to be independent and self supporting. In fact, she founded her own business, Smart Moves Trucking. But in 1987 she was 60 pounds overweight and getting about was increasingly difficult.

Her turning point came when she choked on a vitamin C pill. Her business partner saved her life using the Heimlich maneuver. But her outrage that and innocent pill might have killed her fueled a crucial reexamination (of her life).

I wanted back what I had surrendered to this disease," she told Mike Celizic, who featured her story in his book, Courage, The True Stories of American Sports Heroes.

"I decided I needed to do the most outrageous thing that I could imagine," she said. World-class runners from all over the globe come to New York for the marathon. But most of the 26,000 runners are crazy New Yorkers who delight in this special test of strength and determination. Zoe Koplowitz wanted to be one of them. She found expert coaching and friendly support at the Achilles Track Club, a remarkable organization for runners with disabilities.

I didn't set out to be famous," Zoe said. "At the beginning it was about my own discipline, just showing up for the training every day.

When she completed her first marathon she and her lone Achilles Track Club companion crossed a deserted finish line. But her achievement was noted in a small news item which caught the eye of the MS Society. The very first MS Walk was then being organized and Zoe agreed an official Walk Ambassador.

Every year since, she has been a linchpin of the MS Walk in the spring and an increasingly famous participant in the New York City Marathon in the Fall.

Zoe said recently:


"Over the years I've become a symbol of endurance for people. I get letters all year long, I carry them with me when I run. What I do is a metaphor for life, just like the marathon itself. It means you can get somewhere by putting one foot after another."
By: Martha King Director Publications NMSS

---